Since its founding as an abolitionist church, LAPC has sought ways to serve the larger community and deliver on its commitment as a Matthew 25 Church to "act boldly and compassionately to serve people who are hungry, oppressed, imprisoned or poor" (Presbyterian General Assembly, 2018; M​atthew 25:31–46​).
When the COVID-19 crisis jeopardized this mission (e.g., the People's March on Washington was canceled; the Sacred Heart Men's Shelter was suspended) whilst at the same time making congregational and community needs ever so urgent, the Social Justice Committee had to reimagine its work through the Mutual Aid Network, Anti-Racism Tool Kit, #BlackLivesMatter movement and advocacy for Criminal Justice Reform.
The Social Justice Committee acknowledges g​rants ​received in support of its work. One grant from the NY Presbytery's Self-Development of People and one from the Buckhorn Foundation.
The Committee was able to provide financial aid to the Church of Gethsemane, the Poor People's Campaign, The People's Holiday Fundraiser, Community Voices Heard and Alliance for Families for Justice.
Initiatives
Our Past and Present Partners
General activism for social justice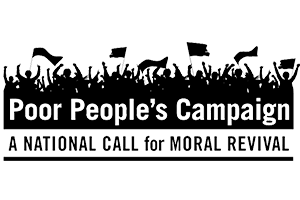 Criminal Justice reform:
Voter Information:
Community Organizing
Other Churches/Religious Orgs
Caption for photo at top: Flags installed on the poles in front of the Church, reaffirming our beliefs of inclusion, justice, and liberation for all people.
Flags Creative: Alison Cornyn/Picture Projects Flags Design: Jeff Streeper/Modern Identity