Give Now to the $50,000 Matching Gift Challenge!
A generous anonymous donor is helping us raise much needed outstanding funds for the Opening Doors Capital Campaign:  All new gifts and pledges made now through the end of 2023 will be matched dollar-for-dollar – up to $50,000. When the challenge is met, we will have raised $100,000. This challenge will run from now until December 31, 2023 – or until $50,000 in matched donations have been reached.
New Pledges are also Doubled During this Matching Gift Challenge
Complete and Submit this Pledge Form
Our Capital Campaign is underway to ensure the future of our inclusive Community.
Our beloved landmark church building in Fort Greene – the home for all our mission activities, community services, and concerts – is in urgent need of restoration to maintain its structural integrity.
In March 2022, we launched our Opening Doors Capital Campaign to raise funds that ensure the future of our inclusive community by addressing the structural deterioration of our building's front foundation walls and brick piers that support the front façade, the towers, the narthex, and the proscenium arch above the balcony.
Read the Update on Construction / September 2023
Read the Update on Construction / June 2023
Read the Update on Construction / January 2023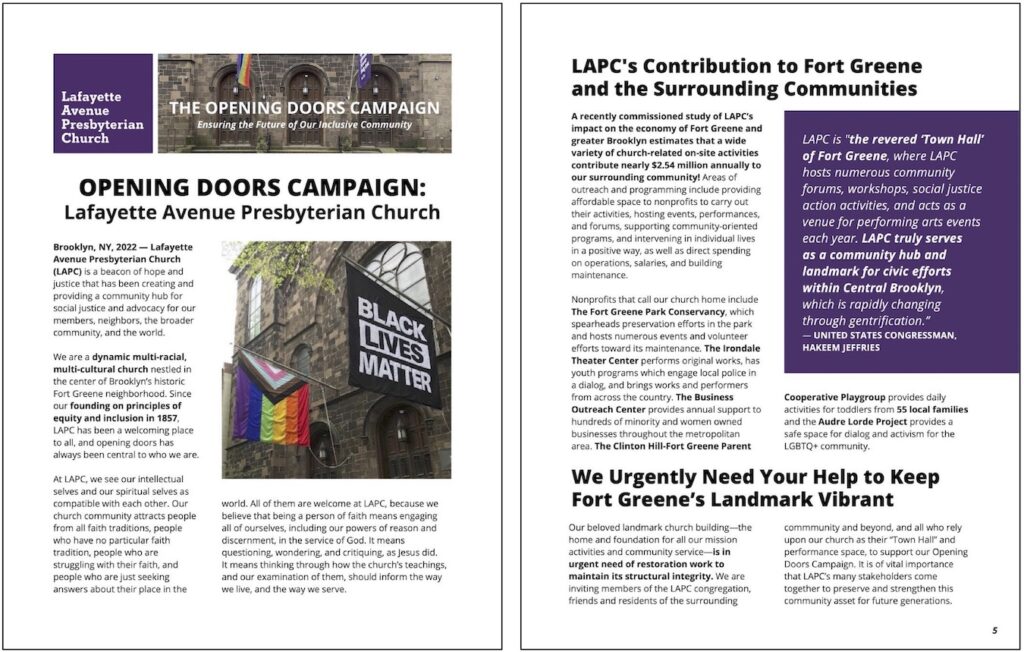 LAPC's contribution to Fort Greene and the surrounding community
A study of LAPC's impact on the economy of Fort Greene and greater Brooklyn estimates that a wide variety of church-related on-site activities contribute nearly $2.54 million annually to our surrounding community! Areas of outreach and programming include providing affordable space to nonprofits to carry out their activities, hosting events, performances, and forums, supporting community-oriented programs, and intervening in individual lives in a positive way, as well as direct spending on operations, salaries, and building maintenance.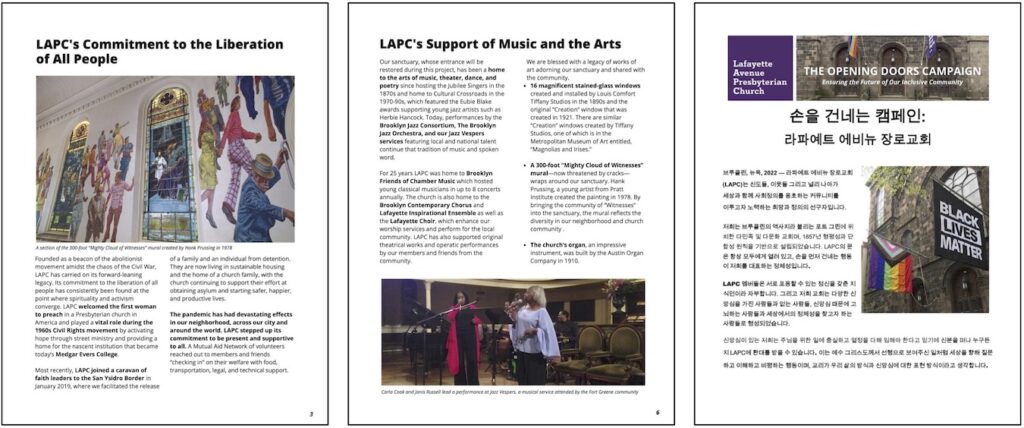 This is what needs to be done
Construction started in fall 2022 and includes masonry work to waterproof and stabilize the foundation. The entrance doors will be restored, an American Disabilities Act (ADA) compliant ramp added, and a door made electronically operable. Future work includes repairing the monumental 1893 Tiffany Studios stained glass triptych located in the front of the church, restoring the front brownstone façade and study tower.
Throughout construction, LAPC's doors will remain open to the community providing Worship Services, Social Justice activities, and Music Events and Concerts.
To describe this work, LAPC produced this video with our architect, Walter Sedovic, pointing out the structural issues in the front foundation walls which make this restoration and capital campaign so necessary.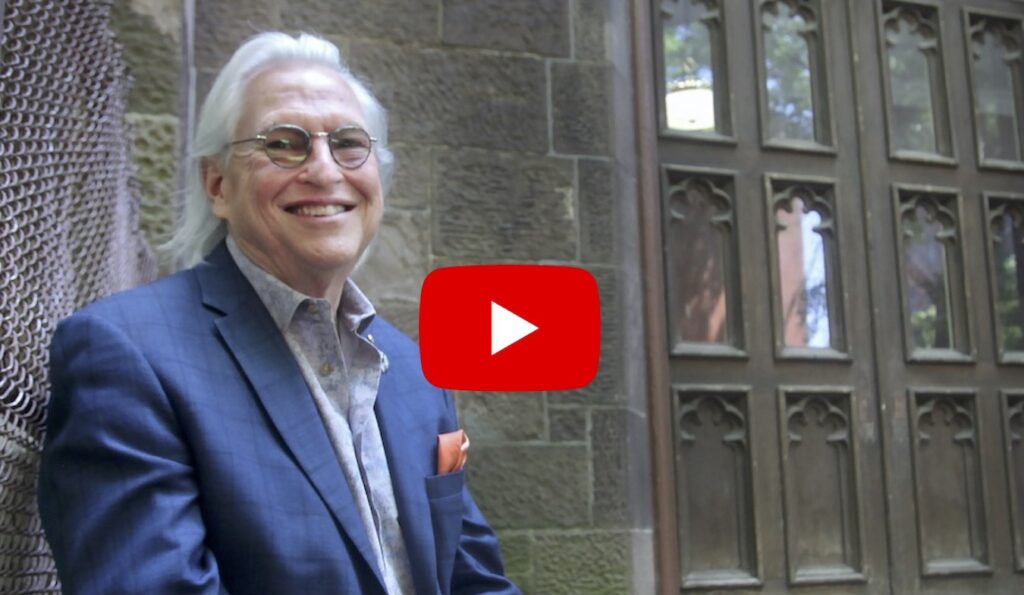 We urgently need your help to keep Fort Greene's landmark vibrant.
Our initial fundraising goal is $1.1 million for this first phase and we invite members of the LAPC Congregation, friends, and neighbors of the surrounding community to support our Opening Doors Capital Campaign.
We invite you to make a three-year financial pledge or a one-time donation. Whether large or small, your gifts are needed and appreciated to make this project a reality. All donations to the Opening Doors Campaign will be restricted solely for the purpose of that campaign.
Here is how you can support LAPC's Opening Door Campaign:
Click here to pledge your financial support.
Click here to make a one-time donation and select "Opening Doors Capital Campaign" in the drop-down menu to indicate how you would like to direct your donation.
Or mail your donation to the address below – and please remember to write "Capital Campaign" in the check's memo line.​
Questions? Please send an email to: openingdoors@lapcbrooklyn.org
Thank you
The LAPC Opening Doors Campaign wishes to thank the support of the National Fund for Sacred Places, the New York Landmarks Conservancy's Sacred Sites Program and the team at Partners for Sacred Places as well as those who have already pledged and donated to the campaign!!
Please use this "Donate" button. Or you can mail us a check to the address below – and remember to write "Capital Campaign" in the memo line.​